The history and origins of pad printing date back hundreds of years as a printing method on delicate dials. At that time, transfer pads were made from pig bladders, but silicone transfer pads were developed as the process evolved. Once this happened, the pad printing process became a solution that allowed the mass production of prints on various products.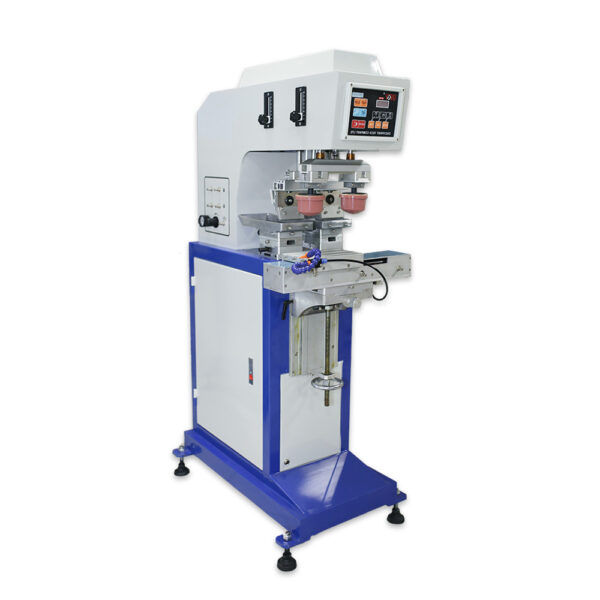 What is a pad printing machine?
A Pad printing machine is a printing machine using the mobile printing method. The pattern text is printed by the positive film "cast image" on the steel plate, etched into a certain depth of intaglio, and the intaglio plate is placed on the inked plate. The machine works ink automatically and scrapes off the ink outside the pattern, and then offsets head pressure to the intaglio plate, the pattern ink. Then the offset head presses to the intaglio plate to take away the pattern ink and transfer it to the object to be printed.
Printing plate can be produced by chemical etching machine or fiber laser machine , Carbon steel plate and thick plate are suitable for chemical etching, aluminum plate is better for fiber laser engraving.
Silicone transfer pads are available in various shapes and sizes, thus accommodating many products that require pad printing. In addition, if the product requires it, silicone transfer pads can be customized to meet the application requirements. Many different colors can generally be printed on the product using the pad printing process, and five-color pad printing is also possible using the correct quality plates.
Advantages of pad printing
The main advantage of pad printing is its ability to achieve high-quality results on most substrates of almost any shape, even on 3D surfaces. Another benefit is that pad printing produces higher quality than is possible with screen printing, as the resolution of pad printing is very good.
In-house pad printing
Many companies are now purchasing pad printing machines to pad print their products in-house. This is a very cost-effective pad printing solution for manufacturers who can save a lot of money by printing their products in-house rather than leaving them to another company.
In-house printing reduces pad printing time and provides additional opportunities, such as for volume customers, to add their logos or other details to the products they sell.
Operating pad printing machines is relatively easy, so machine operators can learn all the skills needed in a brief time. Moreover, the compact size of many pad printers means they can be installed in smaller areas. The operator can arrange an excellent workflow to handle both products waiting to be printed and those just printed.
Drying pad-printed products
In most cases, new pad printed products are cured in a tunnel dryer or conveyor oven to speed up the curing process and ensure that the product can be shipped out as quickly as possible without damaging the printed image. Some products can also be air-dried, but this may not be economical and requires additional storage space. Curing or drying requirements depend on the type of product being printed and the ink being used.
Pad Printing Applications
Pad printing machine can be widely used in many industries such as : clothing tagless logo, mugs, bottle caps, promotional items, home applications,medical devices ,plastics parts etc.
Pad printing machines are a very cost-effective solution for small prints, such as bar codes or labels, and more complex prints where quality is critical. Pad printing is also an excellent solution for any type of 3D object or product with an unusual shape – like a golf ball! Pad printing is widely used throughout the industry to decorate many manufactured goods and components in one way or another.
Popular uses for pad printing include.
Adding labels or design details after the manufacturing process, for example, printing care labels or manufacturer logos directly onto clothing after it has been made.
We are applying promotional logos or marketing messages to various gifts and giveaways, such as pens, clocks, calculators, etc. Add printed details to various concave, convex, or textured surfaces, such as golf balls, medical devices, computer keyboards, or eyeglasses—printed heels with decorative designs such as faux cork finishes.
ENGYPRINT's pad printing machine
ENGYPRINT is a professional pad printing equipment manufacturer in China, specializing in providing a wide range of pad printing machines, with 20 years of experience in pad printing industry production since then. We are engaged in pad printing machines, screen printing machines, pad printing plates, ceramic rings, ink cups, pad printing tables, pad printing consumables, pad printing molds, and various pad printing machines. In addition, we specialize in pad printing plate-making technology. We design and manufacture plate-making machines, including coaters, UV exposure machines, and steel plate etching machines. We have developed engravable aluminum plates via fiber laser machines.
Please view our website to learn more about our durable and efficient pad printing machines and accessories line. If you need advice and solutions regarding pad printing, please get in touch with ENGYPRINT to discuss your needs in more detail.